LAM and Bound by Shadows Presents

A Very Depraved Heavy Kink/Fetish Film Festival
Watch Porn With Me Live At The Leather Archives!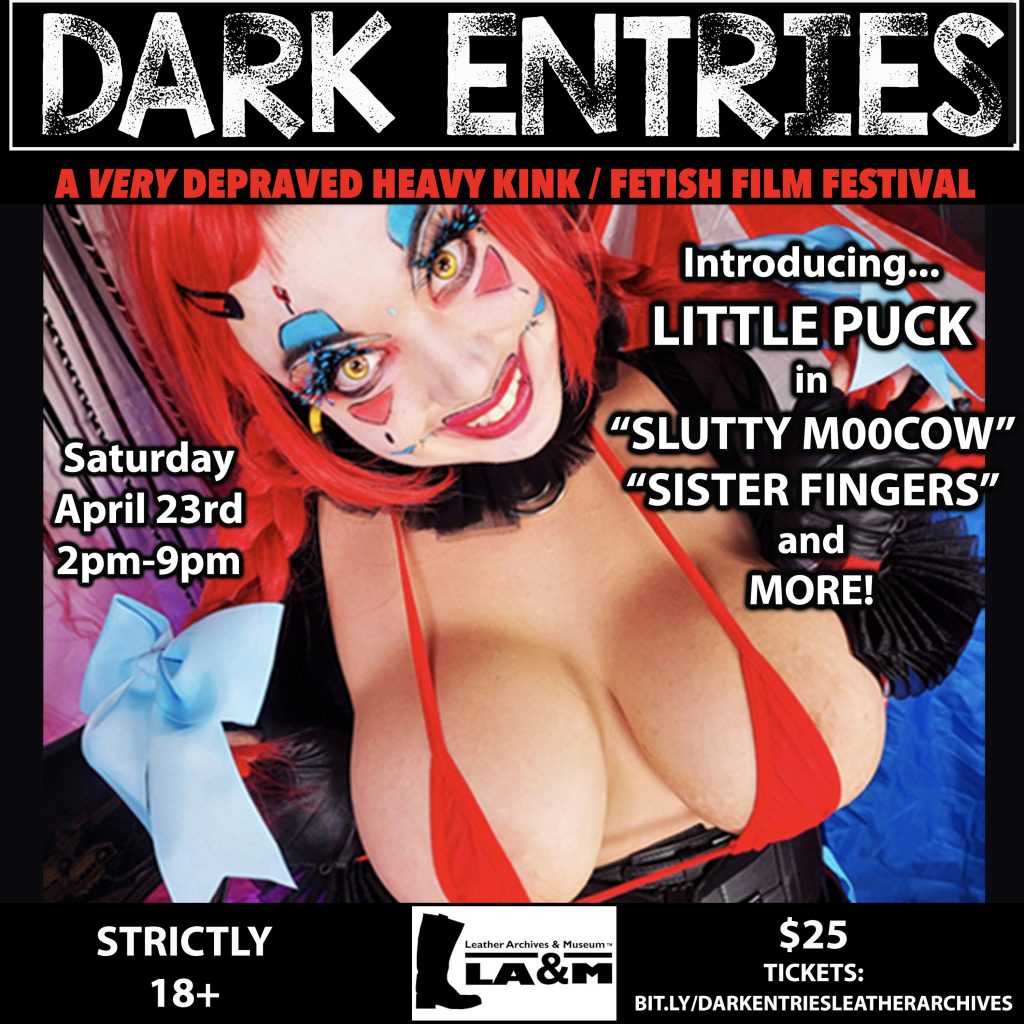 Join Bound by Shadows, Putrid Productions, Little Puck, and other creators on April 23rd for Dark Entries: A Very Depraved Heavy Kink/Fetish Film Festival at the Leather Archives and Museum. This first ever event put on by Bound by Shadows will run from 2-9pm, and features films and shorts by Jonathan Doe, Little Puck, House of Huitlacooch, Bound by Shadows, Trouble Films, Felicia Fisher, and more!
Filmmakers and performers will be on hand to discuss their work and answer your questions. Take a peek here at what I'll be showcasing on my cosplay page: SALAD FiNGERS & SLUTTY MOOCOW!
You may purchase multiple tickets at once by using the "choose your own amount" option. You must be 18 or older to purchase a ticket. Get your tickets today as seats are limited! A portion of your admission for this freaky, kinky film festival at the Leather Archives and Museum goes to support their continuing work. If you can't make the screening in person, you can still show your support and watch the event by buying a livestream ticket.
I'm aiming for my personal contribution from my fans to be 20 livestream tickets and 20 in-personal tickets.
Current Stats: 4/20 livestream, 7/20 in-person tix for the film fest.
If you can't make it IRL, pls consider donating your tix! Just let me know what pseudonym you use when purchasing and you'll get a free livestream ticket!
This event is very important to me since it'll be hosted at the same place Mistress Velvet's exhibit is currently housed. My beloved who passed last year and whose beautiful, kickass legacy continues on.